Cytokeratins are a family of intermediate filaments that are predominantly found in cells of epithelial origin. Keratins can be divided into two types: acidic cytokeratins (Type I) and basic cytokeratins (Type II).[1]
Practical Uses:
Edit
Cytokeratin filaments are located within the cytoplasm of cells. Thus, cytokeratin immunostains should be cytoplasmic stains. Cytokeratin immunostains will stain most carcinomas, carcinoid tumors, epithelial organs, etc. Useful in differentiating sarcomatoid carcinoma from sarcoma.
Antibodies:
Edit
(Separate pages can be built for each of these antibodies as needed.)
Mixture of high molecular weight and low molecular weight cytokeratins. Good as a "pancytokeratin" (that is, it is sensitive as a screening test for detecting the presence of any keratin in a given cell population).
Low molecular weight cytokeratin.
High molecular weight cytokeratin. Good basal cell marker.
Stains basaloid squamous carcinomas, basal-like type ductal carcinoma (aka - triple negative ductal carcinoma), and mesothelioma. It is also used to document squamous differentiation in non-small-cell carcinoma of the lung, a distinction with therapeutic implications.
Good marker for lung and breast carcinomas.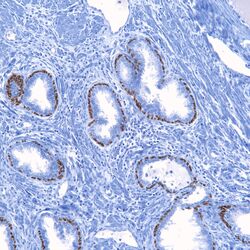 Good marker for colonic adenocarcinoma.
Often stains Merkel cell carcinoma with a "perinuclear dot" (Golgi) pattern.
Technical Info/Tips:
Edit
Example: Antibody XYZ works best at a 1:200 dilution, or with longer time in steamer, etc.
Pitfalls to Avoid:
Edit
Some non-epithelial tumors can stain with cytokeratin, particularly sarcomas with epithelioid features (epithelioid sarcoma, epithelioid angiosarcoma, etc, etc).
Sarcomatoid carcinomas (e.g. - spindle cell squamous carcinoma) tend not to express keratins as well as their more epithelioid counterparts do. If sarcomatoid/spindle cell carcinoma is suspected, using multiple different keratin antibodies may be useful (sometimes only one of them will stain the tumor).
Useful Articles from the Literature:
Edit
References
Edit
Ad blocker interference detected!
Wikia is a free-to-use site that makes money from advertising. We have a modified experience for viewers using ad blockers

Wikia is not accessible if you've made further modifications. Remove the custom ad blocker rule(s) and the page will load as expected.