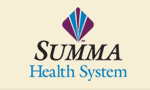 We offer a four year ACGME accredited anatomic and clinical pathology training program accepting 2 candidates per year.
http://meded.summahealth.org/Residency-Programs/Pathology
Comment 1Edit
Quoted from Studentdoctor.net Pathology Forum Post by Pathologee on 3/24/2011:
"That program is dope. Dr. Clarke is a great teacher, very nice. I have friends in the program and I think everyone who has been through there since I can remember (~2003) procured a good job and got good fellowships. I think you get free food and free parking at Summa as well. You can buy/rent an awesome place in that Akron Canton area. Traffic is not an issue. The airport is really cheap and convenient. You have ample opportunity to teach NEOUCOM medical students as well students. NEOUCOM (changing their name soon because they have a pharmacy school) is affiated with 6 hospitals (Summa, Akron General, Aultmann in Canton, Mercy in Canton, Forum Health in Youngstown, and St. Elizabeth in Youngstown) and all have clinical residencies, so there are 6 opportunities to slip into a job right there. The residency doesn't serve all of these hospitals, but you already have a chance to network with these pathologists. There are also tons of community hospitals in Ohio and Pa that you can feed into.
"Hopefully someone did residency there will post more about the specifics, but I think that you would be making a wise decision to go there."[1]
Comment 2Edit
Several reviews of this program are available here: Scutwork.com Summa Health Reviews
We also offer a one year ACGME accredited cytopathology fellowship and accept one candidate per year.
References
Edit
Ad blocker interference detected!
Wikia is a free-to-use site that makes money from advertising. We have a modified experience for viewers using ad blockers

Wikia is not accessible if you've made further modifications. Remove the custom ad blocker rule(s) and the page will load as expected.